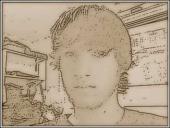 Relationship Status
In A Relationship
Stuck
June 23 2005

yes well, me and donald are stuck up here in monteagle, and will be stuck here till saturday sometime.But we're having a pretty good time, my grandmothers house is on the cumberland mts. and over looks a good part of land.

My aunt has a bowflex, so we are flexin it up, joggin, and hiking, killin snakes, walkin next to waterfalls..... peacefull.

but yea, im up hear because my brother is bi-polar. He has been fine for a while, but has gone down hill. hes running away, cussing my dad out, hes in to some kinds of drugs, drinking, and my dad didnt want me or my sister to be there. Donald was there, so my dad said for him to come.

But a lesson in life i have learned is that you need to stop complaining about life and just deal with it, it wont be crap forever.