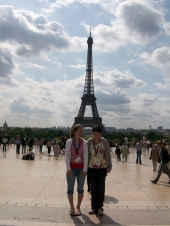 Relationship Status
Single
so amazing
March 02 2008
Our youth conference this weekend was so amazing. Probably one of the best ever. During our sermon yesterday, the preacher talked about what has really bothering me the past year. He talked about how so many Christians, me being one of them, are 'empty suits'. We have the appearance of a Chritian, but we aren't living it outside of church.
having a form of godliness but denying its power. And from those people turn away!
2 Timonthy 3:5
Last night and well into the early hours of this morning, our room talked about what the sermon meant to us. Two of the guys came to say goodnight and ended up staying in our room until about one in the morning. What started out almost getting us in to trouble, ended up being one of the revivals ever. One of the guys paticular, I really honestly feel like God spoke to him last night, and is going to continue to work on him. We aren't really best friends, but I've known him for a pretty long time. As we were talking about things he's done wrong, he actually began to cry. I felt bad at first because I was practically yelling at him, but now I feel like it made him realize he needs to really surrender his life to the Lord. I just want to ask everyone to pray for him and the rest of my youth group. Last night we found out a lot about some of the people in our youth group, and we really need some help. Just pray that we will all stop being 'empty suits' and really do something.