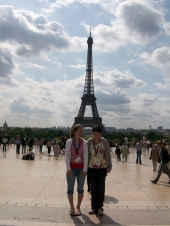 Relationship Status
Single
dancing all the way...
January 25 2008
The past week months I've really realized how much dance is important to me. I mean, I've always known I loved it, but it's the one thing that I could be good at. Some people are great at singing. Others writing, drawing, acting...me dancing. My only down fall is that where I take dance I feel like I'm being held back in the class I'm in. It seems like a lot of the people in the class really don't care. Sure they like hip-hopping, I'll give them that. But I just feel that if that's all you want out of a dance education, then you should just go dance around in the streets. If you take dance classes full time- especially if you participate on a dance TEAM, you should give a darn and at least have an iota of talent. I know that sounds harsh, but you honestly haven't seen some of the people in my dance class. Even though it's totally cliche-ish, dance really does let me express my feelings. It's one of the very few times I can just be myself and not care what others think - well to an extent. Even when I feel totally crappy, I take five minutes to dance, and I can't help but have a huge grin on my face. But back to the whole point of this. I just don't feel like I've learned a whole lot the past three years I've been dancing. I guess I have learned that I can't be shy and that I have to go full-out all the time, but I want to learn technique - lyrical, jazz, ballet, open, contempary. I love hip-hop, but I can't spend my whole dance career shaking by butt. And honestly, I really don't have the money to go to a fancy dance school. So basically my dilemma is that I just want to learn more. Broaden my range of skill. I'm not getting that, and I WANT IT so much.I just don't know how to get it. I really believe I do have tons of potential, and I'm not just trying to sound conceited. I've had to teach myself most of the little technique that I do have by watching dance movies and others dance. So yeah, if you have read all of this, thanks for listening to my rant on dance. Maybe someone will hear me and help me get my dream.
January 26 2008
megan, you're good enough that if you put yourself out there, you can get a scholarship!