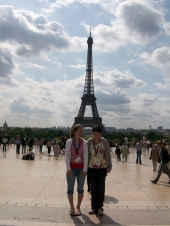 Relationship Status
Single
yeah
November 19 2007
I don't know why I can't not do these things. Some of these are actually kinda cool cause they make you think. Which is good. Definitely. lol
WITH 2007 COMING TO AN END...

1. Have you had any relationships this year?
no
2. Have you had your birthday yet?
yes, March 8th. That was fun. Hey Heff. lol
3. Kissed two people in the same night?
can't say I have.
4. Been on a diet?
wanted to.
5. Pulled an all nighter?
of course!
6. Drank Starbucks?
yes
7. Went Camping?
no sadly.
8. Bought something(s)?
heck yes
9. Met someone special?
heck yes...all my cool ambassador friends...man Australia will never be the same lol
10. Been out of state?
yes...and the country.
11.Skinny Dipping?
in my shower.
12. What are you thinking about?
everything.
HAVE YOU:
1.) Hugged someone?
yes
2.) Slept in someone elses bed?
yes
3.) Got a job?
no...i can't wait though so I'll have my own money.
4.) Loaned out money?
yes
5.) Gotten in a car accident?
no, i'm so glad.
6.) Gone over your mobile phone bill?
no.
8.) Done something you regret?
loads, sad to say.
Lasts:
Last person you hugged?
milby
Last person to call you?
keri
When was the last time you felt stupid?
English today.
Who did you last yell at?
my cousin and sis
What did you do today?
gay school.
Ten Facts:
1. i'm gay...totally not!
2. i'm not...smart or tall or pretty
3. Initials? MLB
4. Hair style? layered, medium length, and usually in a ponytail considering i never have time to straighten it.
5. Eye color? brown.
6. Height? 5' 6''
7. Pets? two dogs and one fish
8. Mood? tired and hungry
9. Where would you rather be? at dance
10. What was the last thing you drank? water
Top Ten Things About Your Life:
1. Have you ever been in love? no
2. Do you believe in love? yes.
3. Why did your last relationship fail? never had one.
4. Have you ever been heartbroken? no.
5. Have you ever broken someone elses' heart? no, i don't think so
6. Have you ever fallen for you best friend? i hope not considering all my best friends have been girls
7. Have you ever loved someone and not told them? yes
8. Are you afraid of commitment? no.
9. Do you want to be in a relationship? sometimes
10. Have you ever had more then five serious relationships in your life? no i'm only 14