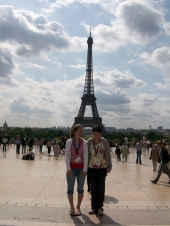 Relationship Status
Single
cool bracelet
November 11 2007
So I went shopping with Batey today. We spent literally eight hours shopping, and I'm completely tired. But, anyway, I got this really cool bracelet. It's a NO Plastic Bracelet, and it's 99% no plastic:
99% of the materials used to create you NO Plastic Bracelet fashion n' awareness bracelet are made from eco-friendly materials. How cool is that!?!
Beads: Eco-friendly 100% cornstarch based resin
Dye/Coloring: Natural herbal tea or Lead-free Dye
Charm: Recycled brass
Packet: Eco-friendly cornstarch based resin
Hang cord: Organinc hemp
Card: Unbleached 100% post-consumer waste recycled paper
Printing: Soy-based ink
A portion of the price of the bracelet is going to be donated to enviromental organizations, and they are hoping to raise $1 million by the end of 2008. You can go to www.everybodygreen.com. There was this cool saying on the little card thing: We're all in this together! Like each one of the beads on this bracelet, we're all a part of something bigger...strung together to create something wonderful: a healthier planet.