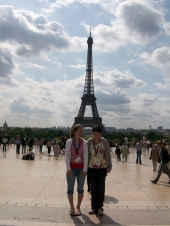 Relationship Status
Single
UGH
August 24 2007
I'm so frustrated right now. I haven't been able to sleep at all hardly the past two weeks because I've have so much homework because of stupid honors classes. But what's really odd is so far I'm making a whole lot better grade then last year in English this year. And somehow in journalism I have a 114. I've had so many projects already this year. I just finished and turned in a poem for English last week, and this week we started a new project that was due today and next Friday. High school is so much harder, and I miss eighth grade so much. I'm also stressing about this pageant fair. I would actually be excited if I had a chance of winning, but I don't. There's a lot of people in my group, and they are all tons prettier than I am. My pageant pictures are also extremely horrific. I look like a fat cow.
Well sorry for my rant, but I needed to vent....
"I hope this is the corn dog line. If it's not, I'll be disgruntled."
August 24 2007
you do NOT look like a fat anhything...you look like a BEAUTIMOUS megan!!!