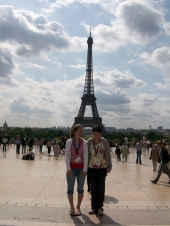 Relationship Status
Single
What Can You Possibly Do?
June 09 2007
What do you do when you've hurt one of your best friends? How do you show them that you're extremely regretful for all you said and all you did? How do you ever regain their respect and trust?
For you who know I'm talking to, I'm extremely sorry. I hope you don't hate me forever. I'd like the chance to talk to you and explain everything. But if you don't want to, I understand completely.
June 10 2007
I would say, talk to _________ and try to make them understand but if ________ doesn't understand give _______ Time. Whatever you did must have really hurt _______ so its gona take some time for ______ to respect and trust you again. But _____ hopefully will forgive you. I'll be praying for you! :) Things will work out, maybe not when WE want them to but when GOD wants them to.
June 10 2007
I don't know what you'll have to do to, megan..... try talking it out with "you know who"..... words can do some bad things, but they can also fix things too.... they're stronger than some of us really know
June 10 2007
i was going to say something really mean because part of me thinks you really deserve it...but i know that's not right. so, you're forgiven...but i don't know if it will ever be the same because you lied to me. so, yeah